Rules for Boycotting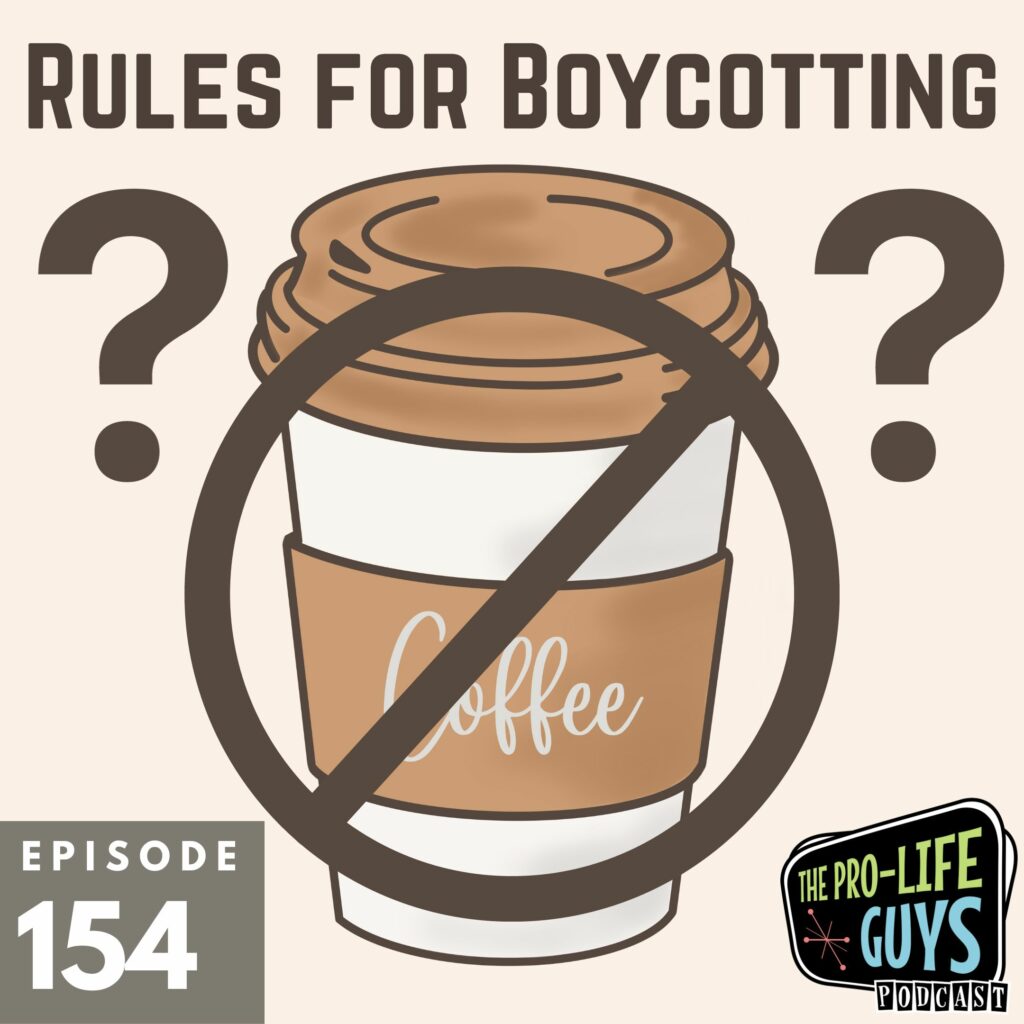 Should pro-lifers boycott businesses which support, endorse, or otherwise enable abortions? If so, how can it be done effectively? What are the principles which go behind boycotting? That's what today's episode is all about.
Cam is routinely asked at talks, outreach, and meetings about how to best boycott companies and organizations which fuel money towards the abortion industry, and it can be difficult to not only moderate our private purchasing habits, but also to use out buying power to affect change in our society. How do pro-lifers use their resources to influence chance, and is this really the best way of affecting change in our society.
In this episode, Cam focuses on how pro-lifers will rarely, if ever have the raw purchasing power to significantly effect a company's bottom line such that they modify their philanthropy, yet that doesn't mean boycotting is useless. As Cam details in the episode, boycotting, namely the public challenging of companies and institutions through altering spending habits, can bring about tremendous outcomes, particularly if a boycott is used to open conversations.
If we can leverage our principles to provoke conversations at the highest levels, by bringing the question of abortion support ideologically (rather than purely financially) to the attention of the key decision makers, it is possible that we can bring about a change in behaviour by opening dialogue with the people who are immediately responsible for change. Even more importantly though, we can utilize the moral practices of an organization as a springboard to changing hearts and minds of the grassroots.
Whether this is a charitable conversation with a barista at our favourite local coffee shop which might change his or her mind on abortion, or a conversation point with a friend or family member which starts as a reflection on a company's policy or position on abortion, a public boycott can create dialogue, and dialogue can create change, provided it is done charitably and using a meaningful progression.
Check out Cam's recent episode on the road map for effective conversations to learn about how to capitalize on these conversational opportunities here: https://prolifeguys.com/back-to-basics-the-road-map-for-changing-minds/
Check out PLG podcast merch here: https://prolifeguys.com/shop/
Check out the new line of CCBR merch here: https://www.endthekilling.ca/product-category/pro-life-apparel/
---